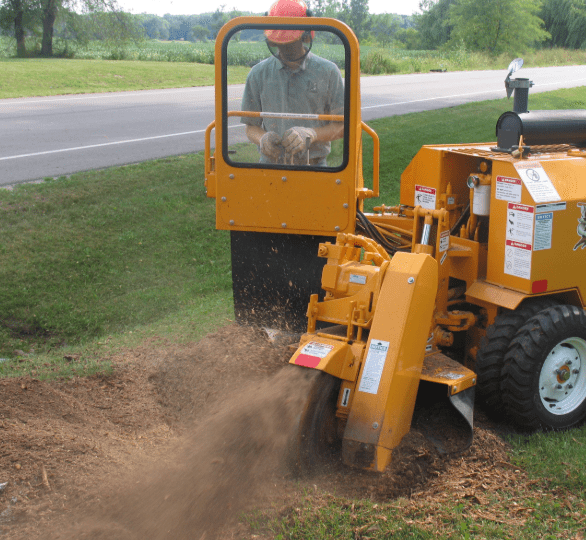 At Tustin Pro Tree Services, we don't promise. We do. We are a dynamic team of tree arborists that take pride in offering the highest quality solutions in Tustin City and its surrounding. Bought a new house and hated the eyesore of a tree stump in your yard? We will be happy to help. Maybe you only want to remove a few stumps to create more space at home? Still, we are the premier arborists you have been looking for. Our team is fully trained and equipped to manage everything, stump removal and to grind to give you a safe and attractive environment that better reflects your personality. 
To know more about stump grinding in Tustin, contact us at (949) 577-6846 and get free estimates.
About Stump Grinding in Tustin, CA
Having a tree stump at home is not one of the worst things in life, but it can still compromise your safety and wellbeing. Not to mention the kind of an eyesore it can turn into in the presence of respected guests. After a tree is removed, what remains behind is a sturdy wood that once held it in place. This is the stump. It may not be appealing and, in many cases, comes with many unanswered questions about its removal.
For many, removing the whole thing seems the most reasonable choice. But if you are looking for a less intensive procedure that only involves shredding down the stump into little wood chips, stump grinding is your best bet. You will need specialist advice even then because one simple mistake can have worse consequences than you could ever imagine. 
Stump Grinding Benefits 
Tree stumps are naturally unsightly and sometimes even dangerous. That's the only reason stump grinding remains a critical element of proper tree care and home maintenance. Aside from alleviating the eyesore they are on your property, here are the top 3 benefits of stump grinding:
Raises Aesthetic Value
Tree stumps compromise the visual appeal and can easily turn a nice looking yard into an unkempt, neglected property. Stump grinding instantly improves the visual appeal and the overall value of your property. It's even more satisfying if it's done by a professional team that understands the tree care business and yard maintenance inside out. 
Prevents Accidents
While many people won't notice the danger posed by tree stumps, they are a huge trip hazard in many homes. This is more worrying for the aged population and children. Stump grinding is not only beneficial to your property but also alleviates the safety concerns that would otherwise cost you more money and anxiety if they were to occur at home. 
Protects Against Diseases
It turns out stumps are not just an eyesore on your property. They can also harbor pests and fungi. This becomes increasingly bothersome when the diseases finally spread to your healthy trees. Leaving stumps to rot on their own only gives these pests and insects sufficient time to multiply. And the result won't be fun. So, your guess is as good as ours. They should be removed. 
Tustin Pro Tree Services is the embodiment of a reliable tree service company that never disappoints in any way. To get a free quote and an amazing experience, call us on (949) 577-6846.