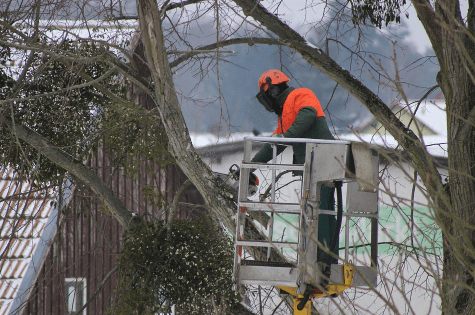 For many homeowners in Tustin city, tree pruning is vital for tree care and property maintenance. They know this is the only way to improve property value, curb appeal, and facelift. At Tustin Pro Tree Services, we want to help them achieve this goal by offering the most professional tree pruning services. We want to give you safe solutions using the right skills, experience, and equipment.
Overgrowing branches can be dangerous in any home. And tree pruning is all you need to keep the dead branches in check and maintain a picture-perfect environment all season. Is it the overhanging branches of the oak tree threatening to lower the value of your property? Or the ever-annoying branches of the maple tree almost endangering the lives of your loved ones? We are ready to get into action. 
Tree Pruning Services in Tustin, CA
We have a wide range of tree pruning services, all of which aim to raise the value of your property. Call us anytime via (949) 577-6846 if you need any of the following options in Tustin city:
Maintenance Pruning
Maintenance pruning is exactly what it sounds like, removing the dead tree branches to support new ones' growth. This is one of the areas we have specialized in, offering complete maintenance pruning services for all purposes. Feel free to contact our team via (949) 577-6846. 
Green Pruning
Green pruning is all about removing excess shrub. We can do it during the summer or spring to increase productivity when you need it most. Contact us anytime if excess vegetation is fast becoming a nuisance.
Containment Pruning
Containment pruning is intended to improve the growth and general health of your vegetation. Here, our team will remove all the bulky tree branches to ensure the remaining options are in perfect shape and size. If this is your priority for an upcoming project, reach out to us anytime to get a free quote. 
Tree Pruning Benefits
If you are still wondering if you should go for tree pruning or trimming, know that our experts are here to help with anything tree care and maintenance. Here are the overall benefits of tree pruning services when done by the experts:
Tree pruning improves the general health of your trees
It helps your trees get proper sunlight 
Tree pruning helps to counterbalance root loss
Allows for early detection of diseases
It increases productivity
Improves the general appearance of your shrub
It reduces damage
Tree pruning adds value to your property
It is cost-saving 
Tustin Tree Pruning Experts
At Tustin Pro Tree Services, we provide the best tree pruning services in Tustin. With affordable price rates on our services, we want to help you spend less on quality solutions. We are not just experienced in tree pruning but can also give satisfying results on tree removal, tree cutting, shrub trimming, landscaping, stump grinding, and many services aimed at creating good-looking backyards. We are here to turn your property into amazing greenery but only if you take our services seriously. Give us a call at (949) 577-6846, and we will be ready to tour your property.